İLK YARDIM NEDİR
WHAT IS FIRST AID?
It is an application which done in accident area while firts aiders is coming for preventing that death possibility
IN FIRST AID APPLICATIONS IT IS FORBDDEN TO USE MEDICINE

B)AIMS OF FIRST AID
1.
To save the lifes and help to continue
2
.To prevent that health situation doesnt go bad
3.
To get easier to recovering.
C)WHAT IS THE SPECIALITIES OF FIRST AIDER?
1.
Be calm and not to be panic
2.
To calm down the patient
3.
To research thhe enviroment and determine that if there is a danger or not
4.
Not to risk his own life
5.
Snaffle the persons to inform the hospitals fire company and security
6.
To realize the patiens conditions and begin to FIRST AID
7.
To satisfy transfer of patient to hospitals.
D) WHAT IS THE ABC'S OF FIRST AID
A.
To open respiration way
B.
To fix respiration
C.
To provide activity of circulation
E)
HOW TO OPEN RESPIRATOIN WAY?
1.
If there is sand dust broken teeth etc in mouth give off them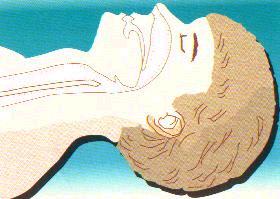 2.In sense closed persons tongue will closed the air ways. So to push the head back and up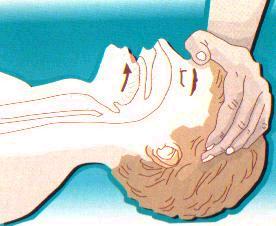 F) HOW TO FIX RESPIRATION WAY? (ARTIFICIAL RESPIRATION)
If respiration is stop directly do artificial respiration
1.To lay the patient hard basement
2.To clean the inside of mouth
3.To lift the chin push the head to back
4.If respiration done mouth to mouth close the nose and if done from nose close the mouth




5.To take a deep breath and to locate mouth to persons mouth who need to respiration
6.To give enough air as to uprise the patients chest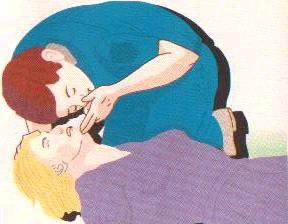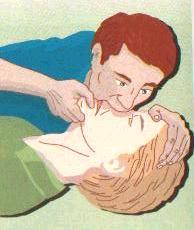 G) HOW TO INCREASE ACTIVITY OF CIRCULATION(HEART MESSAGE )
1.If the hearth doesnt work begin to hearth message immediately
2.HTo lay the patient on the hard basement and kneel to near
DO NOT GIVE OFF THE FOREIGN THINGS WHICH ARE IN INJURIES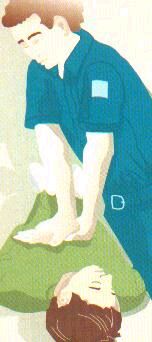 3.To put inside of hand on to the 1/3of bottom side of chest bone
4. Arms must be straight and push the chest in 4 - 5 cm as rhythmic
5. Continue until circulation begins in 60 times in a minute




H) FIRST AID IN SWOON
1.Open the clothes from chest stomach and neck
2.To lay down the patient on hard basement for congestion of brain anl lift legs. do not put pillow under head.
3.To have warning things sniff to patient
4.To wait until tocome to himself
5.When he come to himself give water tea etc by bit by

I) FIRST AID IN CHEST INJURIES
1.İnjured should have semi seat position.
2.To interfere that air get full in the lungs to blanket the injured zone with clean fabric.
3.To prevent the body temperature of victims of an accident

J)FIRST AID IN STOMACH INJURIES
1.Do not give eats from mouth to patient
2.Patient lay down on back and put to blanket as bolt
3.HIf any of organs get out do not touch and blanket of them with gaselum dressed.
4.Injured person transfer to hospital immediately.

K) FIRST AID IN GASES POISONINGS
1.To get out the patient immediately
2.If his sense is not totally closed help to deep respiration.
3.If his sense is totally closed do artificial respiration.
4.BTo blanket him for to interfere the body temperature losses
5.Transfer the patient seriously to hospital

L) FIRST AID IN DIGESTION POISONINGS
1.For getting water the poison give milk egg white water to patients
2.Help to disgorge
3.In acid poisonings do not force to patient disgorge.Mix the water and egg white and drink to patient


M) FIRST AID IN BLEEDING
1.Lift the bleeding area
2.To compress the injured area with gaselum dressed clean cloth or handkerchief
3.If bleeding doesnt stop make bandage 5 cm above of bleeding zone.

N) FIRST AID IN NOSE BLEEDING
1.The person hold down head slowly.
2.To compress to nose
3.Make respiration from mouth an do not blove note .
DO NOT LIFT PATIENT HEAD BACK IN NOSE BLEEDING

O) FIRST AID IN ELECTRIC SHOCK
1.Firstly first aider must keep his own security.
2.Cut down the connection between electric and patient dont touch patient before that
3.By pushing the cable or hooking the patient with lastic or dry wooden rescue the patient from current
4.If respiration stops do artificial respiration and if heart is stopped do heart message
5.If there is burnt wash with cold water.

P) FIRST AID IN BROKENS
1.Do not jolt or move the patient
2. Stopped if there is bleeding
3. Before transfer the patient fix the broken area.
4.If there is opened broken do not touch them just blanket it with gaselum dressed.

R) FIRST AID IN BURNTS
1.With cold water decrease the pain
2.To put off patients jewelleries
3.Do not bomb the pubbles.
4.Blanket the burnt area with gaselum dressed.
5.If patient is sense drink water.
DO NOT BANISH TOOTHPASTE YOGURT SOUCE ETC ON THE BURNT AREA

S) FIRST AID IN INJURIES
1.To check if there is bleeding or not.
2.To interfere that getting dirty of injured area
3.If there is breakaway parts secure them
2018-10-29T16:00
First Aid Lesson Summary