Auto Wheels

USAGE GUIDE OF AUTO WHEELS

Jobs of wheels :
To carry vehicle load.
To follow route which is given by steering wheel.
To reflect the power which is coming from engine like forward and backward.
To stop vehicle in safety conditions in wet and dry floor.
To increase driving presure level by helping the shock absorber
Structural Characters of Wheels :
In the structural of wheels there are cords which are nylon polyester and steel. Overfall resistance are also supply with steel wires. Mixture is processed with chemical oils

Wheels with Cross Coat :
First body structure which is used at the begining of wheel techonology.

Radial Tires:
It is the structure which produced for to meet a need of requirements. Determinde with "R" in the unit of measure.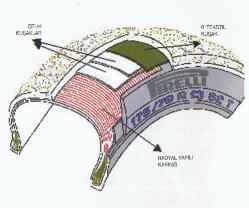 Tubeless and Tube-Type Wheels:
Air pressure which is pressed between wheels and rims. Wheels are only the covers where iar pressure is pressed. Out wheels which are used with inner wheels are called Tube-type,our wheels which are used without inner wheels are called Tubeless wheels.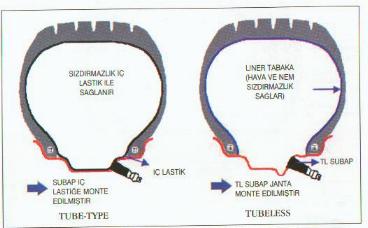 In unit of measure "Pirelli (P) 185/60 R 14 82 H P6000 Tubeless" ;
Pirelli is producer
(P) Auto wheels
P6000 pattern code of wheel
185 nominal section width (mm)
60 rate of section
R Structure (Radial)
14 Rim size(inch)
82 Load index
H Speed Symbol
Tubeless Without inner wheel
Speed symbol is an encoding which gives informations about maximum speed can be done with the minimum loading.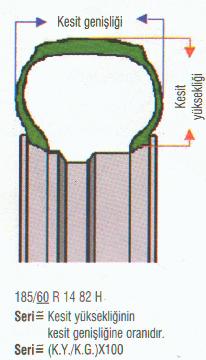 Repair of tears:
Repairs shuold be done by the professionals.
If tear is in the bottom mushroom patch can be done

Repair can be done if wheel speed symbol is "H" (210 km/hour) ,tear size is 6 mm. ve and wheel has no repaired before.

It is objectionable to repair wheels which have speed symbol 240 km/hour or more

Cleaning is very important in repairs. Tear repair metarials are sticked only in clean areas. Tear zone can be claened carefully.

Tear repairs should not be done with the hot irons. If iron touch the rubber , it loose its some facilities there will be tears in bands and transformations in wheel bottoms.
Damaged wheels can take out from rim carefully There will be crackings in liners. To repair with puse patch is objectionable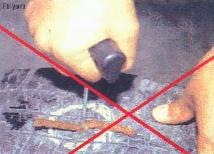 SOME REASONS OF WHEEL DAMAGES

Peripheral Fret in Bottom Center
Enviromental early abrasion in first rim.




Swelling in Rim / Whisker parts (Baloon)


To drive on close wheels


2018-10-29T20:00
Nota Bene Points about auto wheels